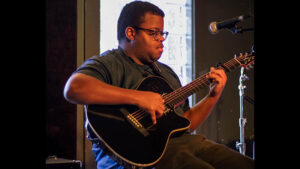 The Daily Norm
Concert begins at 6:30 PM on December 8, 2023 at Ginkgo coffeehouse (721 N. Snelling, St. Paul).
The Daily Norm is the solo project of Kae Layne. His fingerstyle technique is described as delicate, atmospheric, and thought-provoking. Inspired by the likes of Lindsay Buckingham, Paul McCartney and Bruce Cockburn, he takes what he learns and adds it to his style. His hope is that through his playing and his music, he can reach and connect with others.
This is a Local Musician Series Concert
Local musicians playing for donations in a casual setting.
No ticket necessary.
You can come for the entire evening, or enjoy just a few minutes of music.