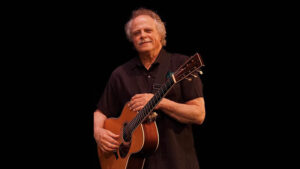 Pat Donahue
PURCHASE TICKETS
Saturday, February 11, 8 pm at the at the Ginkgo coffeehouse, 721 Snelling Ave N, St Paul, MN 55104
Tickets $20 plus tax
We welcome back Pat Donahue.    Come and see him perform in our theater style show, without interruption from kitchen or serving noise (as with all our ticketed shows).
Pat is one of the most listened-to finger pickers in the world. As the guitarist for the " Guys All-Star Shoe Band" of Minnesota Public Radio's A Prairie Home Companion, for twenty years, Pat got to show off his savvy licks and distinctive original songs to millions of listeners each week. Pat's musical tastes are eclectic. Though he considers himself foremost a folk guitarist, Pat's influences are rooted in bluesmen Blind Blake, Robert Johnson, Charlie Parker, Duke Ellington, Muddy Waters and Miles Davis. He manages to blend jazz and blues with folk, and the mix is seamless. Over the years he has captivated audiences with his unique original compositions, dazzling instrumentals and humorous song parodies, including Sushi-Yucki and Would You Like to Play the Guitar?
Tix are $20 (before tax).
PURCHASE TICKETS AT: https://direct.chownow.com/order/30815/locations/45570