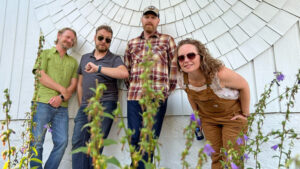 North Country Singers
Concert begins at 6:30 PM on April 21, 2023 at Ginkgo coffeehouse (721 N. Snelling, St. Paul).
The North Country Singers blend Americana, Outlaw and Traditional Country with a Midwestern sensibility. Founded by Twin Cities singer-songwriters: Joan Elizabeth and Earl Ryan, the group focuses on old and new favorites as well as original songs that are conjured from the rivers and wide-open spaces of the rural Midwest. A patchwork quilt of original storytelling, rich harmonies and instrumentation. Return engagement!
This is a Local Musician Series Concert
Local musicians playing for donations in a casual setting.
No ticket necessary.
You can come for the entire evening, or enjoy just a few minutes of music.