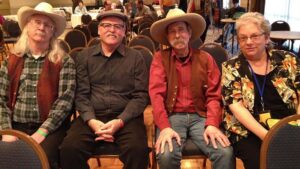 Looking for a fun time? Well, you'll find it right here when Mad Jack & the Black Label Boys commandeer the stage at the Ginkgo. Starting out as a pick-up band at a fiddle contest in 1975, Pop Wagner, Bob Bovee and Bob Douglas decided to become a real working band, soon making the welcome addition of Mary DuShane. In the 1970s the band criss-crossed the Midwest and West, played on Prairie Home Companion, and some of the members toured Europe under the same band name. They have since periodically reunited for such performances as the MN Bluegrass & Old Time Music Festival and the Laughing Waters Festival, but these occasions are rare and not to be missed.
he band plays old time music, but that may mean a Cajun tune, something bluesy or a more modern country number that's played in the older style, besides regaling you with music from the Carter Family, Charlie Poole, the Skillet Lickers, and other greats of traditional string band music.
Come step back in time and be ready to be entertained by country music as it used to be played in homes, on porches, for barn dances and medicine shows. You'll thank yourself for coming!
For more information: https://ginkgocoffee.com/wp-content/uploads/2022/01/Mad-Jack-bio-2021.pdf
Concert is Saturday, February 19, 2022 at 7 PM at Gingko coffeehouse.
Tickets are $20 plus tax. 
For Tickets, visit: https://direct.chownow.com/order/30815/locations/45570