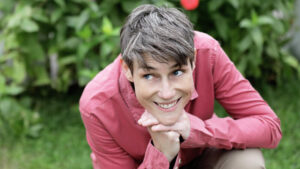 ORDER TICKETS: chownow.com/order/30815/locations/45570
Saturday, Dec. 16, 2023 at 7:30 pm
Tickets: $20
Ginkgo Holiday Food Drive Show - Ellis Delaney
Concert begins at 7:30 PM on December 16, 2023 at Ginkgo coffeehouse (721 N. Snelling, St. Paul).
Please bring nonperishable donations for the food shelf.
"If ever there was a feel-good folk musician, this is the woman who really does send you off feeling better about the world." — John Davy, No Depression
Spreading joy is what singer/songwriter Ellis Delaney (formerly known as "Ellis") does best, and it permeates throughout her new album Ordinary Love. Celebrating the beauty in everyday living, the album couldn't come at a better time. Even amidst COVID19, loss, climate change and gun violence, Ellis finds joy and meaning from family, community connection and ordinary life.
---
WHEN: Saturday, December 16, 2023 at 7:30 PM
WHERE: Gingko coffeehouse, 721 N. Snelling, St. Paul