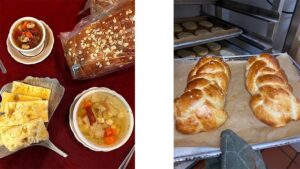 Each Tuesday, stop in for a quart of homemade soup and a loaf of delicious bread (made by us or a local bakery).
Cost is $35 for one week, and $30 per week if you sign up for all 7 weeks!  Add an extra quart of soup for only $10.
We will select a soup for each week, and a bread* that we feels pairs nicely with it**.
Please  email us (kathy@ginkgocoffee.com) for more information.
To order, stop in, or visit our website and click below.  Orders must be received by Monday for Tuesday of that week.   Early orders are appreciated.
https://direct.chownow.com/order/30815/locations/45570?menu_item_id=5086808_6096154
Soups include our customers' favorites, such as:
Curried Cauliflower (not spicy)
Emily's Veggie
Italian Sausage and Lentil
Chicken Pot Pie
Senegalese Peanut
Loaded Baked Potato
Breads will include:
Brioche
Rosemary Focaccia
Cardamom Bread
Wild Rice Rolls.
*If you would like to substitute a salad for the bread, we are happy to do that (mixed spring greens with tomatoes, cucumbers and dressing).
**If you have special dietary requests, contact us to discuss the possibilities.