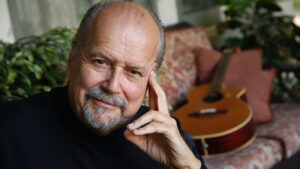 Eric Peltoniemi
PURCHASE TICKETS
Saturday, February 25, 8 pm at the at the Ginkgo coffeehouse, 721 Snelling Ave N, St Paul, MN 55104
Tickets $20 plus tax.
Eric Peltoniemi is very excited to bring a fresh batch of new songs (and some reimagined early ones) to audiences at Ginkgo. For several decades the Minnesota native has covered the musical waterfront: touring artist, singer/songwriter, lyricist/composer for the music theater, record producer and record label executive at acclaimed Red House Records. He has performed throughout the US, as well as in Canada and northern Europe.
In 2018 he appeared in the award-winning Finnish film, Ikitie (the Eternal Road) singing a song he wrote for the production. His songs have been covered and recorded by artists including Robin & Linda Williams; Gordon Bok, Ed Trickett & Ann Mayo Muir; Finnish balladeer Topi Saha; the show Gales of November (featuring Peter Ostroushko, Prudence Johnson, Claudia Schmidt, Ruth MacKenzie, and others).
Photo Credit, Larry Marcus
Tix are $20 (before tax).
PURCHASE TICKETS AT: https://direct.chownow.com/order/30815/locations/45570