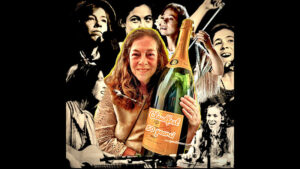 ORDER TICKETS: chownow.com/order/30815/locations/45570
Saturday, Dec. 2, 2023 at 7:00 pm
Tickets: $25
Ginkgo coffeehouse, 721 N. Snelling Ave., St. Paul
Claudia Schmidt
CLAUDFEST! What is it? This year marks the 50th year that Claudia Schmidt has been weaving her musical magic for countless delighted audiences. It begins with her multi-octave voice, 12 string guitar and mountain dulcimer. But then the language leaps in, and it all comes together.
Her love of language is obvious from the moment she opens her mouth. Her songs are pure poetry, and along her way she began adding spoken word and story, so that her listeners get to go on a deep journey with her, returning refreshed and replenished from the experience. She has recorded 22 albums and there is much more to come.
Why don't you come and help this amazing performer celebrate as she begins her 6th decade of composing and performing?! CELEBRATE CLAUDFEST!
---
WHEN: Saturday, December 2, 2023 at 7:00 PM
WHERE: Gingko coffeehouse, 721 N. Snelling, St. Paul